««Back to programs search page
You searched for programs: in the Mid Atlantic
Your search returned
270
programs.
You may want to use the advanced search page to refine your results.Jump to:
A
B
C
D
E
F
G
H
I
J
K
L
M
N
O
P
Q
R
S
T
U
V
W
X
Y
Z
Programs at institutions beginning with the letter
C
:
Carnegie Institution for Science
(Washington, DC)
Carnegie Observatories Graduate Research Fellowship
This Fellowship supports graduate students interested in carrying out all or part of their thesis research under the supervision of a Carnegie Staff member. We encourage appli
...read more

Carnegie Mellon University
(Pittsburgh, PA)
Carnegie Mellon - University of Pittsburgh Joint Summer Undergraduate Program in Computational Neuroscience
Undergraduates interested in receiving research training in computational neuroscience are encouraged to apply to an NIH-sponsored summer program at the Center for the Neural
...read more


Quality of Life Technology (QoLT) and ASPIRE REU Programs
American Student Placements in Rehabilitation Engineering: ASPIRE focuses its Research Experience for Undergraduates (REU) Program on research in the rehabilitation engineerin
...read more

Robotics & Intelligent System Scholars (RISS) Robotics Institute
The Robotics and Intelligent Systems REU site at Carnegie Mellon's Robotics Institute provides funded high-quality robotics summer undergraduate research experiences, offe
...read more


University of Pittsburgh and Carnegie Melon University Molecular Biophysics & Structural Biology graduate program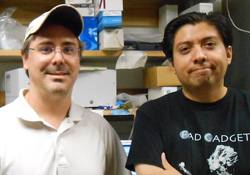 Molecular biophysics is an exciting interdisciplinary research field at the intersection of physics, chemistry, biology and medicine. The NIH T32-supported Molecular Biophysic
...read more



Center for Selective C-H Functionalization
(Washington , DC)
Chemistry Summer Undergraduate Research Program (CSURP)
Get Paid up to $5000 for 10 weeks and add Research Experience on Your Resume!!
Chemistry Undergraduate Research Experience (CSURP) is a fully paid 10- week unique research i ...read more

Childrens Hospital of Philadelphia
(Philadelphia, PA)
Injury Science Research Experience for Undergraduates (REU)
The Center for Injury Research and Prevention (CIRP) at The Children's Hospital of Philadelphia, a leading multidisciplinary injury research center, has secured for fundin
...read more


College of William and Mary
(Williamsburg, VA)
Undergraduate STEM Research Scholarship Program
The VSGC Undergraduate STEM Research Scholarship Program provides awards of up to $8,500 to rising juniors and seniors who are enrolled full-time in a program of study in scie
...read more

Virginia Space Grant Consortium's Graduate STEM Research Fellowship Program
The Virginia Space Grant Consortium (VSGC) Graduate Research STEM Fellowship Program provides fellowships of $6,000 in add-on support to graduate students to supplement and en
...read more


Nationwide Programs: Programs not based at individual institutions
Carroll College
(Helena, MT)
Montana Space Grant Consortium Scholarships and Fellowships
-
(Nationwide Program)
The Montana Space Grant Consortium was established in 1991 as a component of NASA's National Space Grant College and Fellowship Program. The Montana program is one of a na
...read more


Chief Dull Knife College
(Lame Deer, MT)
Montana Space Grant Consortium Scholarships and Fellowships
-
(Nationwide Program)
The Montana Space Grant Consortium was established in 1991 as a component of NASA's National Space Grant College and Fellowship Program. The Montana program is one of a na
...read more