Mentoring Manual
Grads and Post-docs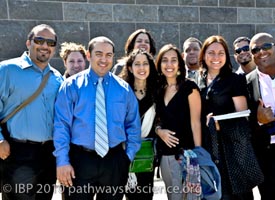 Mentoring is a time consuming activity including preparation, follow through and ongoing support. One of the key concepts is balancing challenging and supporting the mentee.
Too much support can result in a person not learning because everything is done for them and they are just observers rather than learners.
Too much challenge can lead to discouraging and/or just completing tasks as assigned.
Examples to consider for mentoring and good program design include the Meyerhoff Scholars Program at the University of Maryland at Baltimore Country, MIMSUP: Multicultural Initiative in Marine Sciences, and SOARS: Significant Opportunities in Atmospheric Research and Science.
These programs are nationally focused on the success of under-represented minority students in the sciences and they have all received national acclaim for their success and are considered strong models for good program design and implementation throughout the United States. The 13 key concepts drawn from the Meyerhoff program and others can be applied in a variety of program efforts and settings.
The topics in this section are organized according to the phases of mentor development. Early sections contain more fundamental and practical information while later sections address more nuanced issues.
Browse this section by topic: